Are there other nail conditions besides fungal toenails?
What are common nail conditions and what can you do to improve your toenails?
Not all nail conditions are fungal toenails. There are many conditions and disorders that can affect your toenails and change their appearance. Podiatrists are skilled at assessing toenails and diagnosing various nail conditions. There are many factors that cause nail conditions to develop from nail trauma to medical conditions such as diabetes. It's important to make sure that you have the correct diagnosis when treating your toenails as it can help improve treatment outcomes.
Read more to learn about different nail conditions, their causes and treatment for them.
Toenails are made from keratin, which is a hard substance that protects the tips of the toes and the underlying nail bed which it is firmly attached to. Toenails are usually a 1mm thick and have a slight curvature. Not everyone is born with the same shaped toenails and difference in colour and appearance can vary according to skin tone.
At the base of the toenail is the toenail matrix, there is where new keratin is made and allows toenail to grow by pushing the nail plate forward. 
Toenails are very slow growing and grow at an average of 1.62mm a month (regardless of season). That means if you damage or lose your toenail, it can take up to 12 months for a new toenail to grow back. Toenail growth also depends on attachment to the nail bed for it grow.  Toenails will grow slower and slightly thicker as we age.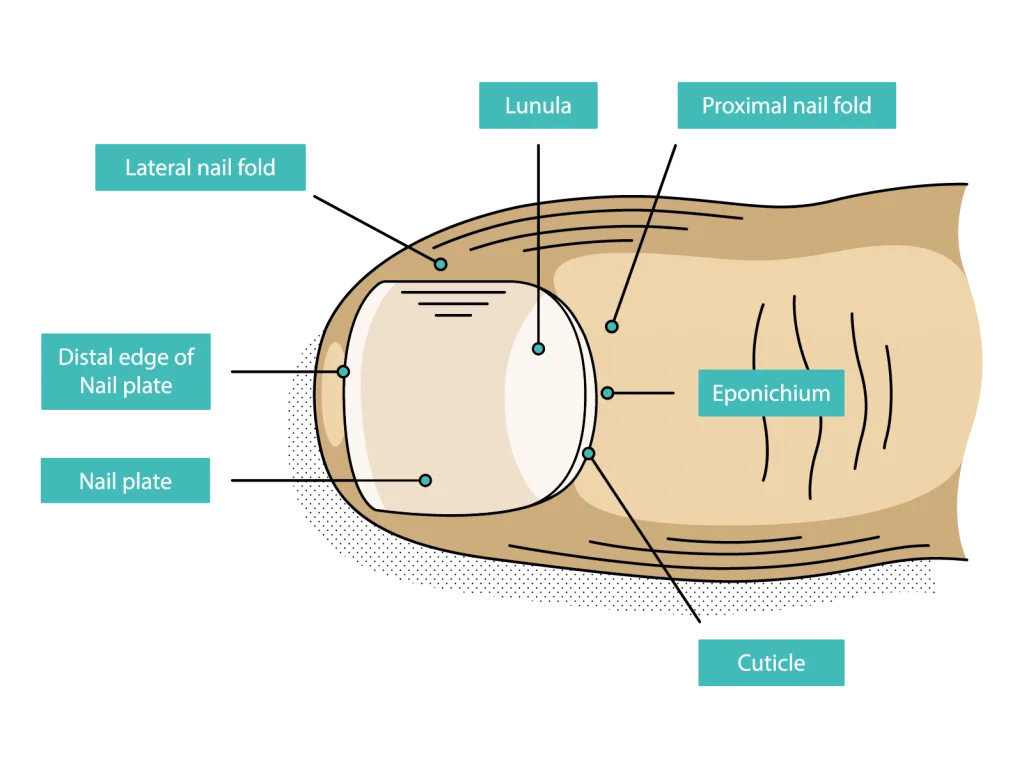 Nail conditions can develop on their own or as part of a underlying medical condition. Other things like trauma, infection, skin disease, nutritional deficiency, medication, or genetics can impact toenails. Accurate diagnosis is important for treatment as many conditions can look very similar.
The most common nail condition we see is fungal toenails followed by ingrown toenails, however there many other toenail conditions. The following is a visual guide on common toenail conditions.
toenail conditions: visual guide
There many conditions that can affect your toenails. This visual guide has twenty common toenail conditions to help you understand different conditions and their causes. 
Click through to see toenail conditions. 
Involuted nail or Pincer Nail
A pincer toenail where the toenail curves inwards compressing the nail bed. Pincer toenails are commonly seen in adults.
Causes: malnutrition, fungal toenail infection, psoriasis, diabetes, tight fitting footwear, osteoarthritis.
Ingrown toenails are a painful condition that occur when the nail penetrates where the skin meets the nail fold. More common in adolescent men, ingrown toenails can worsen and lead to infection.
Causes: There is no definitive cause for ingrown toenails, however there are predisposing risk factors. 
Fungal Toenail (Onychomycosis)
50% of toenail conditions are onychomycosis. It is a fungal infection of the toenail. There are different organisms that can affect the toenail and treatment various on organism and level of infection
Causes: Genetic predisposition, transmission from people and environment, nail trauma, age, poor circulation, vascular diseases, lymphedema, diabetes mellitus, immunocompromised patient, psoriasis, hyperhidrosis
Inflammation of the nail folds around the nail plate. It is often caused by bacterial or fungal infections or both. Paronychia can be acute or chronic. Acute paronychia will have pain, redness, tenderness, and sometimes pus present. Chronic paronychia can lead to nail shedding and other changes in the nail plate. 
Causes: Trauma, diabetes, vascular disease, sarcoidosis, or vasculitis. Chronic paronychia is common in people who constantly have their hands submerged in
Thickened toenails (onychauxis)
A severe uniform thickening of the toenail where it changes colour (slight brown), texture, and shape. These toenails can also become rough opaque and brittle making them difficult to cut and painful in shoes due to pressure.
Causes: diabetes, bacterial / fungal infection, poor circulation, systemic diseases, trauma, psoriasis
It is an enlargement of the toenail where it thickens and curves resembling a ram's horn shape.  Commonly seen on the first toenail and is dark brow or yellowish colour with horizontal ridges.
Causes: Trauma, neglect, repetitive stress in footwear
Nail shedding (onychoptosis, onychomadesis)
It is the periodic shedding of toenail, in whole or part. This condition can make toenails sensitive however toenails will recover and regrow.
Causes: Guillain-Barre syndrome, pemphigus vulgaris, meningitis, trauma, syphilis, hand foot and mouth disease, fever, chemotherapy, or adverse reaction to medicationfitting footwear, osteoarthritis.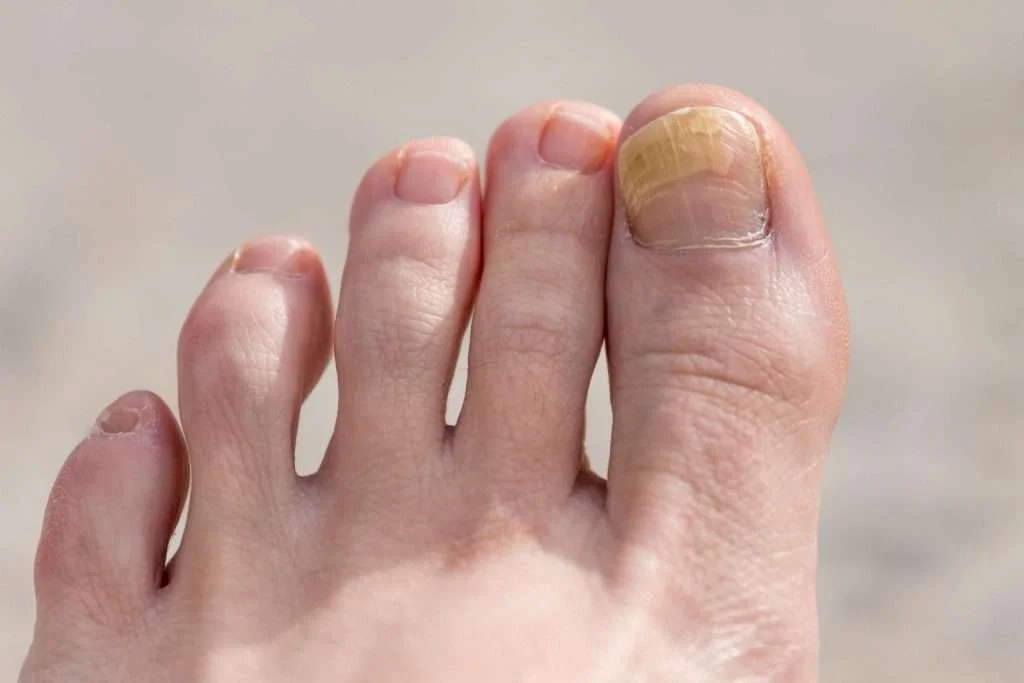 Nail lifting (onycholysis)
Onycholysis is where there is detachment of the nail plate from the nail bed. This can occur at the tip of the toenail or on the sides. It is painless condition and more common in women than men
Causes: Idiopathic, anaemia, poor circulation, psoriasis, eczema, hyperhidrosis, fungal infection, thyroid disease, trauma, medication. Prolonged immersion in chemicals such as detergents, petrol, or acetone
Nail wasting (Onychatrophia)
Onychatrophia is where the nail grows but then starts to waste away/shrinks becoming smaller in size.
Causes: severe psoriasis, lichen planus, severe paronychia
Nail Riding (Reed Nails, Onychorrhexis)
It is a nail condition that causes grooves or vertical ridges which are parallel in the toenail.
Causes: Age, lichen planus, psoriasis, rheumatoid arthritis, trauma, poor circulation, anaemia, zinc deficiency, arsenic poisoning
This where are visible ridges or indentations which run across the width of the toenail (horizontal ridging). This is usually a temporary impairment to the normal growth of toenail.
Causes: Severe illness, chemotherapy, trauma
Nail clubbing is where there is increased downward curving of nail which can extend over the edge of the toe giving a "clubbed" appearance.
Causes:
longstanding heart and lung disease, thyroid disease, ulcerative colitis, cirrhosis, lung cancer
Nail splitting (Onychoschizia)
It is a nail condition more common among women where the nail plate splits due to health conditions such as iron deficiency, dehydration, thyroid disease, lung, and kidney disease
Spoon shaped nail (Koilonychia)
More common in fingernails than toenails, there is there is a loss in curvature of the toenail resulting in concave or spoon shaped toenail.
Causes:
common in young children and tends to resolve, anaemia, fungal infection, more prevalent in men, aged, with vascular disease, trauma, HIV infection
This is a condition for the white spots or white discoloration on the nails. It can show as lines, dots or cover part or the entire toenail plate.
Causes: trauma, hereditary, systemic conditions, artifical nails and resin based nail polishes 
Is scarring of the nail where the skin grows and attaches to the nail plate and grows out together attached due to poor circulation or systemic disease.
This is where there is bruising or bleeding under the toenail.
Causes: trauma
A painful toenail condition where is there outgrowth of the bone under the nail plate.
Causes: trauma
Podiatry assessment and treatment
Podiatrists can assess and provide treatment for many nail conditions. We understand that though some conditions can cause pain, for some people appearances of toenails can cause anxiety and distress. 
At our foot clinics we will assess your toenails and make sure that we recommend appropriate medical treatment. In some situations, we may recommend further studies such as microbiology testing or blood tests.
There is much debate about how to trim toenails, but we recommend the following:
At our foot clinics we provide Keryflex Nail Restoration as an alternative treatment to artificial toenails. Keryflex provides an immediate improvement in the appearance of unsightly toenails.
 Keryflex uses a specially designed resin that allows us to build a flexible, non-porous artificial nail over your existing toenail allowing it grow naturally underneath it. Safer and healthier without compromising on aesthetics.
PACT therapy for fungal toenails
Photodynamic Antimicrobial Therapy (Pact®) is a new painless fungal nail treatment. PACT is an effective treatment of nail fungus infections as it works by using a special dye (photosensitiser) and a high-performance LED light. The gel makes fungal organisms sensitive to light and are then destroyed by a filtered control light.
Arnold J, Nenoff TM. 2016 New talent Americas across academia and the U.S. National Laboratories. Dalton Trans. 2016;45(24):9743.
Bain S, Sorensen M. Medical conditions in dental practice. Case 83. Physical signs for the general dental practitioner. Fungal nail infection. Dent Update. 2011;38(3):212.
Bassi A, Greco A, de Martino M. Neonatal onychomadesis. Arch Dis Child Fetal Neonatal Ed. 2016;101(2):F161.
Bergqvist C, Ramia P, Abbas O, Kurban M. Genetics of syndromic and non-syndromic hereditary nail disorders. Clin Genet. 2017;91(6):813-23.
Braswell MA, Daniel CR, 3rd, Brodell RT. Beau lines, onychomadesis, and retronychia: A unifying hypothesis. J Am Acad Dermatol. 2015;73(5):849-55.
Castilla-Guerra L, Coronel-Perez IM, Rodriguez-Rey EM. [Onychomadesis: An unusual sign of alarm in the elderly]. Rev Esp Geriatr Gerontol. 2016;51(3):183-4.
Chernoff KA, Scher RK. Nail disorders: Kids are not just little people. Clin Dermatol. 2016;34(6):736-41.
Clark CM, Silverberg NB, Weinberg JM. What is your diagnosis? onychomadesis following hand-foot-and-mouth disease. Cutis. 2015;95(6):312, 9-20.
Grover C, Vohra S. Onychomadesis with Lichen Planus: An Under-Recognized Manifestation. Indian J Dermatol. 2015;60(4):420.
Gurbuz K. The treatment of onychogryphosis of hand nails by total matricectomy and dorsal V-Y advancement flap. Jt Dis Relat Surg. 2020;31(1):39-42.
Hardin J, Haber RM. Onychomadesis: literature review. Br J Dermatol. 2015;172(3):592-6.
Hare AQ, Rich P. Clinical and Educational Gaps in Diagnosis of Nail Disorders. Dermatol Clin. 2016;34(3):269-73.
Ko D, Lipner SR. Concurrent beau lines, onychomadesis, and retronychia following scurvy. Cutis. 2020;105(3):146-7;9.
Murdan S. Nail disorders in older people, and aspects of their pharmaceutical treatment. Int J Pharm. 2016;512(2):405-11.
Navarro Moreno E, Almagro Lopez D, Jaldo Jimenez R, Del Moral Campana MC, Arbol Fernandez G, Perez Ruiz M, et al. [Outbreak of hand, foot and mouth disease with onychomadesis caused by Coxsackie virus A16 in Granada]. An Pediatr (Barc). 2015;82(4):235-41.
Nenoff P, Ginter-Hanselmayer G, Tietz HJ. [Fungal nail infections–an update: Part 1–Prevalence, epidemiology, predisposing conditions, and differential diagnosis]. Hautarzt. 2012;63(1):30-8.
Podder I, Das A, Gharami RC. Onychomadesis Following Varicella Infection: Is it a Mere Co-incidence? Indian J Dermatol. 2015;60(6):626-7.
Rieder EA, Tosti A. Cosmetically Induced Disorders of the Nail with Update on Contemporary Nail Manicures. J Clin Aesthet Dermatol. 2016;9(4):39-44.
Romita P, Guarneri F, De Prezzo S, Dimauro D, Ambrogio F, Bonamonte D, et al. Onychomadesis secondary to allergic contact dermatitis to tioconazole contained in a nail lacquer: Description of three cases. Contact Dermatitis. 2020;82(4):242-3.
Wulkan AJ, Tosti A. Pediatric nail conditions. Clin Dermatol. 2013;31(5):564-72.
Xavier JPO, Junior J. Onychomadesis secondary to hand-foot-and-mouth disease: report of two cases. An Bras Dermatol. 2020;95(2):266-8.
Ingrown toenails can be a real pain in your life. Check out what to do for an ingrown toenail and how to recognise the symptoms of an infected ingrown toenail. 
Request an appointment at The Foot Hub today