At The Foot Hub, we treat foot conditions ranging from plantar fasciitis to ingrown toenails, and everything in between. For more than a decade, we have been providing relief for feet all over Sydney.
We have treated every foot condition, and no case is too complicated for us to solve. No matter what foot condition you're facing, we have the skills to help you feel your best once again. Whether you need nail surgery or products for pain relief, our podiatrists are here to help you get back on your feet.
Arthritis in your feet and ankles can cause significant pain and impact your life in many ways. Find out what causes it and how we can help you.
Ankle sprains are common injuries that can affect people of all ages. In fact, we see many of them at our clinic. Read on to learn more about ankle sprains.
athlets foot (tinea pedis)
Athlete's foot or tinea pedis is a fungal infection of the skin. It commonly occurs in feet due to the moist, dark spaces that footwear create. Learn more about this condition and the treatment options available
Bunions are a common, progressive condition that we regularly see in our clinic. We are happy to assess your situation and find the footwear, exercises, or medication needed to provide relief.
Pain in your heel or ball of foot could be bursitis. Find out what causes it and how you can treat it.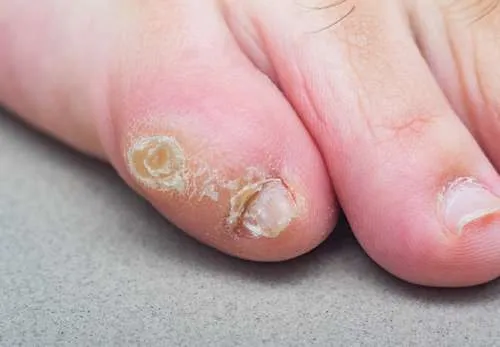 Corns are a common painful condition. Learn more on what causes them and treatment available.
Cracked heels are a very common foot problem. Most of the time, cracked heels are merely unsightly to look at. We can treat your heels, and help manage any pain and discomfort you're experiencing.
Ankle fractures are serious and require immediate medical attention. If a broken ankle isn't treated appropriately, it can lead to further damage of your joint, and severely limit your mobility and ability to be active. Find out about the different kinds of fractures, their treatment, and how your podiatrist can help
We work with many patients experiencing fungal toenails, a condition that can change the shape, thickness, and texture of one or more toenails. We offer several treatment options to get your toes healthy again
Hammertoe happens when your toes bend downward, taking on a hammer-like shape. We provide products, therapies, and professional advice to eliminate pain and other symptoms associated with this condition.
Heel pain is a common complaint from people who spend hours on their feet. Luckily, several simple, non-invasive solutions can help you eliminate your heel pain permanently.
Ingrown toenails are uncomfortable, and they will only worsen if left untreated. Our experts offer therapies and treatments to alleviate symptoms and heal your ingrown toenails quickly.
Morton's Neuroma causes pain between your toes that can worsen over time. Our podiatrists can assess your condition and offer orthotics, treatments, and surgical options, depending on your needs.
At The Foot Hub, we treat a wide variety of nail conditions that go beyond the common fungal toenail. Our podiatrists are experts in toe anatomy, offering assessment and treatment to relieve your symptoms for good.
Plantar fasciitis is a common foot condition that causes pain and tension in the heel. Our experts will assess your foot anatomy and get you back on your feet again in no time
Plantar warts are a common condition of the foot that can be quite painful. They are caused by a virus and can appear anywhere on the feet. Learn more about them and the treatment available.
Foot psoriasis is a common condition we see in our clinic. It can be extremely painful and challenging to treat which is why it's important to seek help as soon as you notice a problem.  Read on to learn more about psoriasis, its causes, and how we can help.